Cranes
Services of transport, handling and lifting equipment
rental of mobile, tower and derrick cranes
preparation of heavy lifting procedures
transport logistics and heavy haul trucking
rental of aerial lift platforms and telehandlers
Hutní montáže , a.s. offer through the Construction Vehicles Department a wide range of heavy and oversize load handling services. We own cranes from 20 tones to 600 tones. Our team of experienced specialists provides you with expert advisory services. We fulfill the wishes of our clients using state-of-the-art TEREX-DEMAG cranes, our own team of professionals and a wide range of accessories (e.g. slinging equipment, lifting beams, crane men baskets, etc). We offer MAN trucks and Faymonville trailers with load capacity up to 45 tones for transport of heavy and oversize loads.
Our nonstop contacts:
602 275 276, dispatch
558 617 818, dispatch
725 494 814, trade
E-mail: jeraby@hutni-montaze.com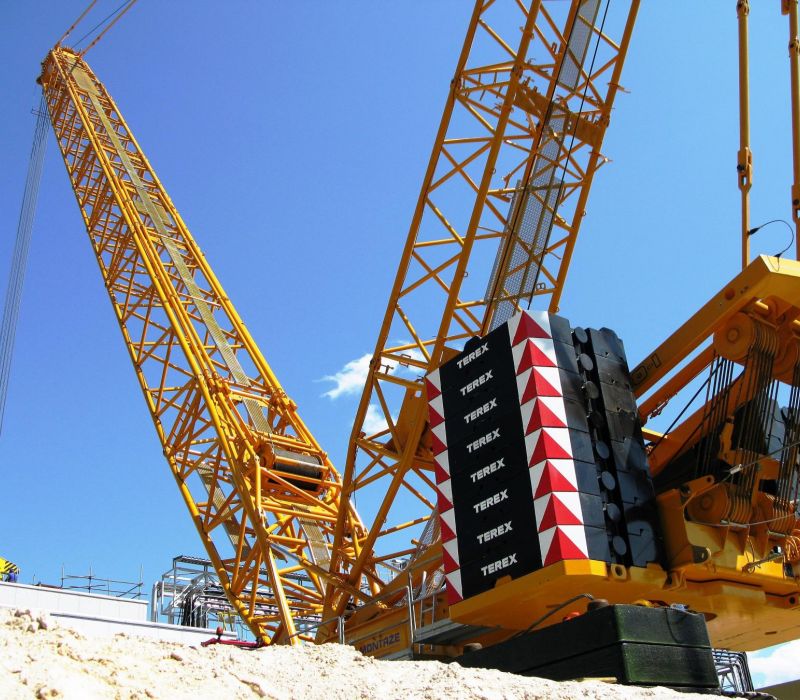 Crane rental and oversize load hauling services
FREE OF CHARGE inspection of the site by our technician and suggesting the most suitable type of crane and hauling equipment,
FREE OF CHARGE technical consultancy based on documentation for projects under preparation,
FREE OF CHARGE possibility to pay with credit cards (VISA, MASTERCARD, MAESTRO)
three shift operation (24 hours), working on weekends and on public holidays,
preparation of the installation method statement, drawings and .DWG-file format documents,
we offer cranes incl. operators with long-term experience, that satisfy all legal conditions and safety regulations incl. the possibility of coordination of the parties at the project,
we offer services of qualified riggers and certified lifting slings and equipment,
obtaining the permission for shipping the crane to the site and back, possibility to store the loads on the area of our construction site,
liability insurance for damage caused by the lifted load with coverage of up to KCZ 350 mio. (possibility of additional insurance up to any amount you want).
Payment with credit card for our crane services
Our customers may pay with credit card for the cranes services.
From 17. April 2018 our customers may pay with credit cards for the services of our cranes and construction vehicles (VISA, MASTERCARD, MAESTRO). Payment terminals are mobile, therefore the customer may pay directly on site to the crane operator after completion of crane works. Request for credit card payment has to be indicated in the order.
Contact
Hutní montáže, a.s.
Nádražní 448
739 25 Sviadnov
Technical parameters of cranes
mobile cranes with telescopic boom

max. capacity /
radius (t/m)

max. radius (t/m)

main+auxiliary boom (m)

type

20 t / 3,0 m

0,6 t / 19 m

21 + 0 m

30 t / 2,7 m

1,3 t / 22 m

25 + 13 m

40 t / 3,0 m

1,4 t / 28 m

31,2 + 13 m

60 t / 3,0 m

1,2 t / 28 m

44 + 15 m

80 t / 2,0 m

0,6 t / 44 m

50 + 17,6 m

100 t / 3,0 m

2,1 t / 44 m

50 + 19 m

120 t / 3,0 m

1,1 t / 56 m

60 + 17 m

120 t / 3,0 m

0,6 t / 50 m

60 + 17 m

180 t / 3,0 m

3,2 t / 54 m

60 + 20,5 m

200 t / 3,0 m

1,4 t / 62 m

50 + 33 m

mobile cranes with lattice boom

140 t

2,4 t / 50 m

60 + 48 m

350 t

9,5 t / 70 m

78 + 72 m

DEMAG CC 2400

600 t

6 t / 134 m

84 + 84 m